Take your email productivity to the next level. FollowUpThen Premium gives you SMS reminders, calendar integration, customized followups for your recipients, attachment support, a handy web interface for followup management and more.
Upgrade now for only $4.99 per month or $49 per year.
SMS Reminders
Schedule an SMS reminder to appear on your mobile device. Great for sending yourself phone numbers right when you need to call them. Scheduling is as easy as this:
Monday1030am-sms@followupthen.com International numbers are fully supported!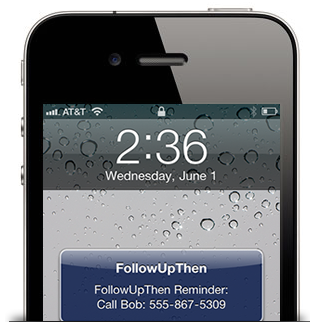 View Followups In Your Calendar
Easily view, edit and cancel upcoming followups right from your calendar! Works with Google Calendar, iCal, Microsoft Outlook and nearly any modern calendar system.

Manage Your Followups Online
Login from anywhere and manage your upcoming followups. Easily schedule new and review recently completed followups.

More Design Customization Options
Upload your company logo, edit the background color of your followups and more. Make FollowUpThen one more opportunity to re-enforce your brand presence.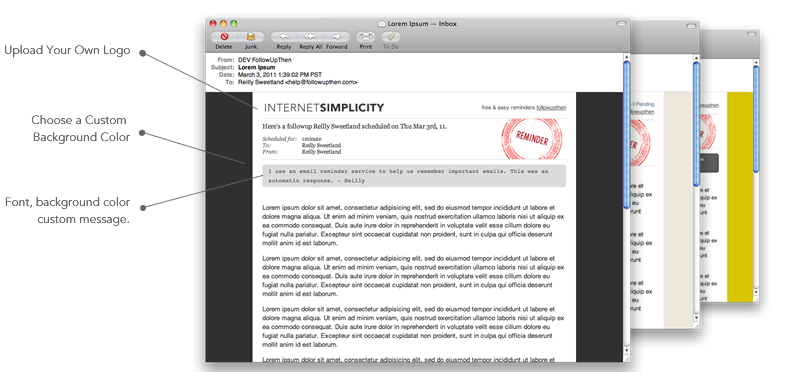 Affordable Cost

For only $4.99 per month, you can tame your inbox, quickly set reminders and schedule unlimited followups.
Attachments
Schedule files to appear in your (or another's) inbox at exactly the right time. Perfect for interviews, forms and presentations.
Upgrade Multiple Emails
When you upgrade to FollowUpThen Premium, your primary address and all of your linked addresses are automatically included in the upgrade.
30 Day Free Trial
Try out FollowUpThen for 30 days for free! We won't bill your card up front, and you can cancel any time in the 30 day window. So hey, why not give it a shot?